During Week of Welcome (WOW) we gear up for the new school year and welcome all our new students. To introduce students to our campus community, we host a number of activities and programs before classes begin so students can become familiar with the university's array of resources, meet new people, and make new friends.
If you're an international student, in addition to WOW activities, you'll be attending International Student Orientation (ISO). Please visit the ISO website for more information. If you're a current student who wants to help out during WOW, apply to be a WOW Leader.
Download the App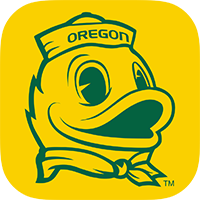 All the information on this website—and more—is available in the brand-new Be an Oregon Duck app. Download it to access the full Week of Welcome schedule, an interactive campus map, important campus contacts, and more. Just search "Be a Duck" in the app store on your iPhone, iPad, or Android device. Explore before you arrive!
---
THURSDAY, SEPTEMBER 24
Move-In Day
Specific times and locations sent to students' uoregon email
Follow the instructions emailed from Residence Life to your uoregon email address. Move-in times are assigned specifically, so plan ahead. You can find more information about Move-In Day on the Residence Life website.
Kickoff
8:00 p.m. in Matthew Knight Arena
Meet up with your Flock and start the week right. You'll meet your Flock and your SOSer in a specific section in the arena. To find which section your Flock is sitting in, check out the Find Your Flock website.
Duck N2 the Rec
Immediately following the Kickoff at the Student Recreation Center
We're taking over the Rec Center. Follow the crowd from the arena after the Kickoff and experience all the Rec has to offer. Tour the facilities, meet the staff, and hang out with your new friends. 
---
FRIDAY, SEPTEMBER 25
Residence Life and First-Year Interest Group Meetings
Time and locations listed on the WOW mobile app and sent via email
These meetings are required if you live in the residence halls and/or are enrolled in a FIG. To find the times and locations of your required meetings, check out the Week of Welcome app or watch your uoregon email.
The College Block
10:00 a.m.–1:00 p.m. at the EMU
Your journey starts now! You don't have to wait until graduation to get involved in the work you love. From social justice to sustainability, humanities to health, explore how to apply your interests at UO and make the most of your degree. Discover opportunities beyond the classroom, connect with people in the know, and develop next steps to incorporate your passions into your first year and beyond.
We Are Oregon Pep Rally
4:00 p.m. at Hayward Field
We'll celebrate our student-athletes and coaches while learning what it means to be a fan at the UO. We have free t-shirts for everyone who attends.
Class Photo
Immediately following the pep rally
Join the rest of your class in making the largest "O" class photo in history.
The Flock Party
5:15 p.m.–late in and around the EMU
The Flock Party provides a fun, interactive, and informative celebration to welcome University of Oregon students and sets the tone for the new year. Current students are invited to volunteer for the Flock Party.
---
SATURDAY, SEPTEMBER 26
Game Day: The Ducks take on Utah
Game time TBA at Autzen Stadium
Don't know how to get student tickets? Check out the student ticket information at the Go Ducks website.
Hike Mount Pisgah
1:00 p.m., 2:00 p.m., & 3:00 p.m. shuttle bus picks up at 15th Avenue (across the street from the Rec Center)
Check out Eugene's incredible outdoor scene with a 1.7-mile hike up Mount Pisgah led by UO Outdoor Programs. Expect an elevation gain of 1,050 feet. The final shuttle drop off will be at 4:00 p.m.
Community Service
1:00–3:00 p.m. meet in front of Oregon Hall
Serve the UO community by helping to keep our campus clean. This will be a preview of one of the UO's greatest traditions—University Day. Help serve and get a free t-shirt. 
Crafts
1:00–5:00 p.m. at the EMU Craft Center
Check out the brand new Craft Center in the EMU and make a craft for free. Options include ceramics, tie-dye, and glass blowing.
Saturday Nightlife
Following the football game, approximately 9:30 p.m.–12:30 a.m. at the EMU Amphitheater
Join us for the biggest party of the week when we turn the EMU Amphitheater into a huge dance floor after the football game. Enjoy a glow jungle party complete with gogo-dancers, DJs, free food, body and face painting, casino games. 
---
SUNDAY, SEPTEMBER 27
Convocation
3:30 p.m. in Matthew Knight Arena
University Convocation is one of the UO's proudest traditions and is the culminating event of the Week of Welcome. It serves as the university's official welcome to new students and faculty and celebrates the atmosphere of academic excellence, innovation, and intellectual curiosity in which our students, faculty, and staff thrive.
Common Reading Author Event
7:30 p.m. in EMU Ballroom
Meet Emily St. John Mandel, author of this year's Common Reading book selection, Station Eleven. Bring your copy of the book to get it signed by the author. Participate in the conversation on the Common Reading website, and you might win a prize.