IntroDUCKtion is the University of Oregon's orientation program for new students. At IntroDUCKtion, you'll become acquainted with the UO campus and have opportunities to discuss university life with current students as well as faculty and staff members.
At IntroDUCKtion you will do the following:
Learn about academic requirements, course offerings, and academic support services
Meet with an academic advisor to plan your class schedule and get your questions answered.
Register for your classes
Learn about the many academic and cocurricular opportunities that make getting involved on campus both easy and fun
You'll leave IntroDUCKtion with a full schedule for your first term at the UO. When you return to campus in the fall, you'll be fully prepared to be an Oregon Duck.
Types of Sessions
All entering students who live in the continental United States are expected to attend IntroDUCKtion. Three types of IntroDUCKtion sessions are offered:
IntroDUCKtion for Freshmen is a two-day session with a student program track and a concurrent parent and family track. Both tracks are tailored to address the specific needs of each group.
IntroDUCKtion for Transfers is a one-day session for students who have completed more than 36 credits of course work at a U.S. college or university after graduating from high school or its equivalent.
IntroDUCKtion Hawai'i is a one-day session for all freshmen and transfer students who are residents of Hawai'i.
Download the App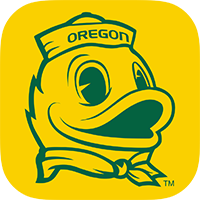 All the information on this website – and more – is available in the brand-new Be an Oregon Duck app. Download it to access a full session schedule, an interactive campus map, important campus contacts, and more. Just search "Be a Duck" in the app store on your iPhone, iPad, or Android device. Explore before you arrive!
Sponsors
IntroDUCKtion 2015 is brought to you in part by the following generous sponsors. Click on each logo to learn more.