Hosting a table during our orientation events is an excellent opportunity for your organization or business to meet and welcome new students to the University of Oregon and the Eugene area. When new students arrive to campus they will establish new routines. They will search for their new favorites, favorite places to eat, shop, and connect. Meeting them at orientation events is the best way to introduce your organization or business as their potential new favorite spot.
Student Orientation Programs offers tabling opportunities at all of our IntroDUCKtion sessions during the summer and during the mid-year sessions. Availability is limited, and spots fill fast. For non-UO entities, tabling at an orientation event comes with one of our sponsorship packages.
UO departments, clubs, and organizations can learn more about tabling during orientation on the Campus Partners website.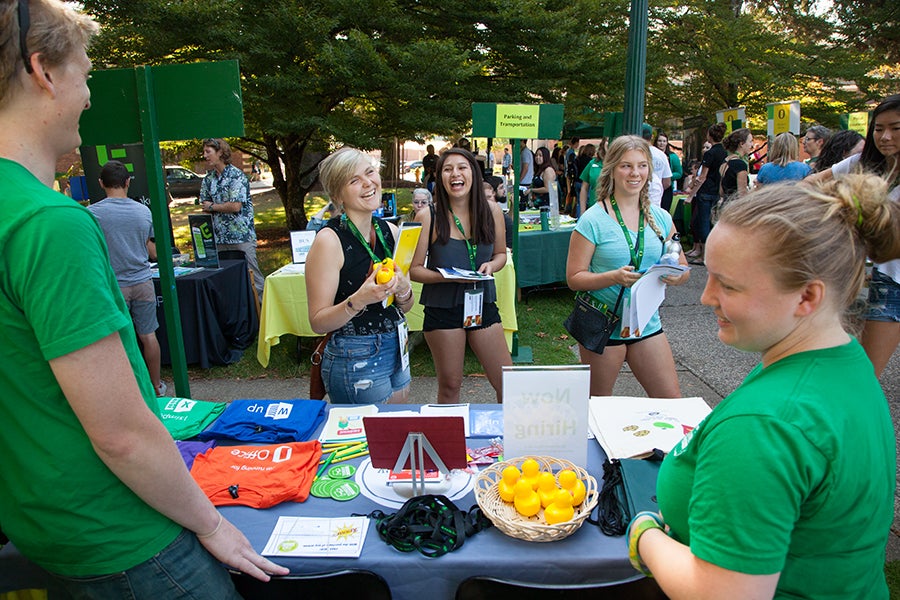 ---
Tabling Details
Attendance

Tables are limited. For those organizations/departments/businesses we are unable to acccomodate, we will add them to a wait list. In the event an organization/department/business no-shows for a session, an organization on the waitlist will be invited to occupy that table for the remaining sessions. Dates for IntroDUCKtion tabling are:
June 8, 2018:

Setup will open at 11:00, Info Fair is advertised to be 11:30–1:30.
Foot traffic will be constant 11:30–1:30.
The June 8 session is for both students admitted for summer term and transfer students admitted for fall term.

June 29, July 2, 6, 10, 13, 17, 20, 24, 27, 31, and August 3:

Setup will open at 11:00, Info Fair is advertised to be 11:30–1:30
Foot traffic will be constant 11:30–1:30.
The July 2 and 6 sessions are for transfer students.
The August 3 session will include both freshman and transfer students.
 

Location and Power

The location of Info Fairs during IntroDUCKtion and Week of Welcome will be outside on the EMU Green. Consequently, electrical power will not be available. Information about parking will be sent with the table confirmation. Please be aware that traffic patterns throughout campus may alter throughout the summer due to special events. Learn more about specific campus traffic patterns this summer.
Weather

In the event of inclement weather, Info Fairs will continue as scheduled (Welcome to Oregon!), unless lightning occurs. The closing of the Info Fair is at the discretion of Student Orientation Programs (SOP) and EMU event staff.

 

Table Placement, Setup, and Teardown

In order to arrange for an appropriate flow of participants, table placement and arrangement will be managed by the SOP staff. Moving tables or swapping with other table occupants will not be permitted without approval by SOP staff. Additionally, representatives at each table should stay within five feet of their designated table. Wandering through the fair to distribute materials or recruit session participants will not be permitted. For all info fairs, every table will include one chair, a green table cloth, and a canopy to be shared with other tables.
Tear down should not start until the fair closes. Please do not pack up early! At 1:30, tablers may begin to pack up and can leave their table, chair, green table cloth, and UO-provided canopy as is. We will clean up that equipment. All other materials, publications, giveaways, signs, etc. should be taken with you when you leave.
Mobile App

IntroDUCKtion utilizes the Be a Duck mobile app (link is external) to provide information throughout the program, including the Involvement Fair. We encourage you to download it for free from your app store. On the app we'll provide information about organizations participating in the fair, including the info  submitted on the table request form (phone number and website) as well as the table's location during the Involvement Fair. Organizations will be listed under the Involvement Fair menu.
Distribution of Materials

Departments and organizations are encouraged to distribute materials, information, and swag to students, parents, and family members. We further encourage those materials to be environmentally sustainable. Specific materials prohibited from distribution include: alcohol or other drug paraphernalia (ex: bottle openers, cigar cutters, ash trays), non-reusable plastic water bottles, potentially allergenic sprays or fragrances, and food not individually wrapped.
If your business is external to the University of Oregon, representatives will not be able to solicit information from the participants without SOP approval.
No product sales or exchange of money should occur during the Info Fair.
---
Online requests for a table at IntroDUCKtion are now open IntroDUCKtion 2018. You request to table for your organization via the form below.
---
Curious about tabling at Week of Welcome? Click the button below to learn more.